Our inspiration is named Alex!
In mid-1996, a very special connection between a Guatemalan family and a little boy was formed when the Bonilla family adopted Alex, a 4-year-old boy who did not see, did not hear, and did not speak. He was a deafblind child.
His parents sought the help of specialists and doctors, but his vision and hearing loss were not recoverable due to Congenital Rubella syndrome. The most difficult and painful thing for the family was not being able to communicate with him, despite the fact that they were so full of love for their son/brother. They charged themselves with the task of learning as much as they could through investigating how to educate and communicate with Alex.
In Guatemala, deafblindness was completely unheard of. In the family's lengthy search for help, they heard about the Hilton Perkins program that supports educational programs for children with deafblindness. They contacted them and their response was generous and open. They put them in contact with other parents and professionals in Latin America and offered them support, guidance, and training.
Alex's mother dedicated herself to putting everything she had learned into practice and little by little she managed to get Alex to learn to move around on his own, to eat independently, to know when it was time to sleep, to go to the bathroom on his own, and to sign to communicate, among other important skills.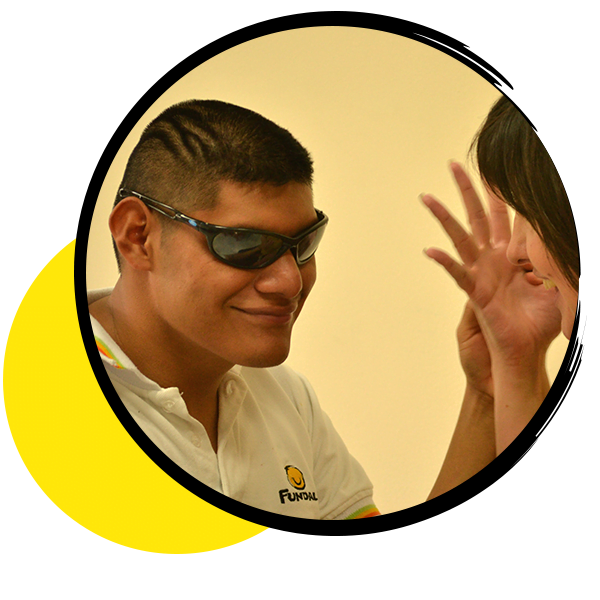 Alex's parents, seeing that these small miracles had provided an increased quality of life not only for their son but for their whole family, they decided that it was necessary to share with other parents of children with deafblindness what they had learned.
Thus, in December 1997 with a group of friends and collaborators, and with the professional support of the Hilton Perkins program (now Perkins International), they legally formed the Guatemalan Foundation for Children with Deafblindness Alex "FUNDAL" and its original center specialized in the education of children with deafblindness.
The Educational Center started with only two students in 1998 and currently serves more than 500 families between its three headquarters, in the capital of Guatemala City, in Quetzaltenango, in Huehuetenango, and also in the various outreach programs for institutions that serve children and youth with disabilities in different parts of the Republic of Guatemala.
The experience of meeting Alex changed the lives of everyone in the Bonilla family and thousands of other people who have been involved in this mission … You can also be part of our journey!
"We are ordinary people in exceptional situations"
– Helen de Bonilla